All Aquatics & Kids Playgrounds offers free site evaluations and consultations to help you find the best products to meet your needs.  We provide site layouts, 3D product renditions and estimates at no charge.  Allow our CPSI-certified sales consultants to help you determine a realistic budget, evaluate your site, discuss how many kids will visit and what is age appropriate, educate you on the current safety guidelines, and introduce you to each step of the process for completing your project.
Consultation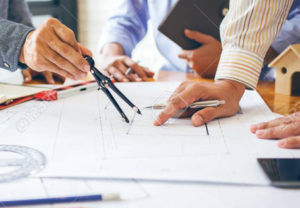 Let us start by saying you have come to the right place. Our consultants are creative, innovative, and very good listeners. As we begin this first phase, we will also educate you about the products within your project and help you determine several steps to your needs and why they are needed.
We offer a wide range of knowledge in the commercial playground industry and will guide you with valuable answers to questions to help you understand your choices. Our biggest force of any project is safety and doing it right. Our strength is guidance, our objective is completion of awesome projects, and our motivation is a happy client.
There is a lot more information we will be gathering to help build your project throughout this process – So just relax—we got you on this.
Here are a few points to work on to help us understand your project.
Know what product you are wanting, generally. – Playgrounds, Splash Pad, Fitness etc…
Knowing a range of budgets. – Your budget is the driving factor to your project.
An idea of placement. – Size and location matters.
What age groups are you wanting to attract? – 2-5 yrs. ,5-12 yrs., 2-12 yrs. or adults.
Color Selection – Don't wait until the last minute; we can detail this in the design phase.
And most importantly, your vision of the overall project. – We want to get this right for you.
Design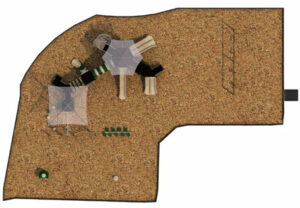 After the consultation stage, we will have a better mental vison of your project and paint a picture of your needs and desires. You may have seen a few hand drawings during the consultation visit, don't worry these are just "idea" drawings to share with our professional CAD and rendering team during designing stages.
To gather the information we need to design your project, our consultant will visit your site to take measurements plus photographs  as well as notes with your input.  Then we will have enough information to start a design.
Once submitted to our professional CAD/Rendering team, they will produce comprehensive 2D - drawings, 3D renderings and sometimes Google overhead live shoot placement of products in the area or location. We'll incorporate our designs to meet all safety standards and guideline of our industry.
Our designs are critical to visually displaying the finished projects, assuring your comfort in the project design, along with a kid-fun safety area.
After this phase has been completed our sales member will provide to you with a design package with a full line by line-item quote including installation for a signed approval of your project.
Installation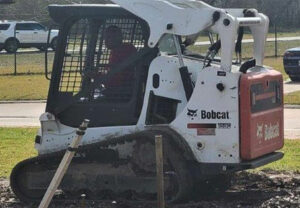 All Aquatics and Kids Playgrounds prides itself on the professionalism of our Installation crew members, job site safety, cleanness of work areas and attention to final details
Our crew members are certified in Playground and Splash pad installations and understand the construction knowledge to support you with a great installation. Our select vendors and manufactures rate us as A + preferred installers for the product we sale.
As part of our process, our sales member along with our installation project manager will review the site to assure proper information has been conveyed between client, sales member and project manager. After all documentation drawings and onsite layouts are completed and approved, work will begin to complete your project in a timely manner.
Maintenance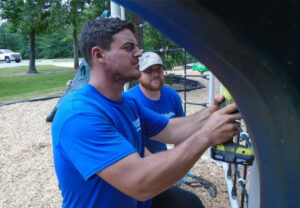 Just like everything else, you must allocate funds and a budget to maintain your new installed or existing investment for your organization.
We have many different structured maintenance programs to help fit your needs. These programs are set up to assure your Park areas, Playground, Splash pads or fitness areas or optimizing the full integrity of the product. With a structured maintenance program it will give you safe, longer lasting and more fun friendly area. We are here to help all of this happen; All maintenances programs have a direct correlation with safety and meeting standards for Playground, splash parks and play areas.
Here are few programs listed below that we can offer
Playground (CPSI guidelines) Certified Playground safety and routine maintenance
Texas (PIWF) Personal Interactive Water feature guidelines on Splash pad and maintenance awareness.
Maintenance and awareness for critical fall heights.
Site maintenance.
This is just to list a few must have maintenance items that need to be routine. While we started you off with consulting to design then to making your project reality, we can't stop there without conveying the importance of maintenance to enjoy your new play or park areas.
We are, and want to be, a one stop company for your projects and truly care about all aspects of your vision.
"It's All for the Good of the Kids"