Playground systems create a structure for children's physical development and provide opportunities for diverse physical play. Swings and slides promote balance and coordination, climbing strengthens muscles, and tactile panels help with hand-eye skills. Confidence grows as your kids master physical challenges and overcome obstacles.
All Aquatics & Kids Playgrounds, LLC believes in the value and importance of outdoor play. We offer a selection of products from full playground structures to free-standing play pieces for safe, meaningful, fun-filled play.
Within the design development of your play areas, there are many factors and guidelines to consider as we consult to create a fun and safe playground area. Our professional sales and design team have many years of knowledge and our qualified (CPSI) Certified Playground Safety Inspectors with an understanding of safety and correct guidelines for your new play area.
Choose Age Appropriate Playground Equipment
Here is a sample safety factory for you to consider. It's important to select a playground that is right for the age group.  Older kids can get bored on playgrounds designed for younger children and they may use the equipment improperly, which can cause damage to the equipment or cause injuries.  Younger children may attempt to use more difficult equipment and feel intimidated.  The right playground for the right age group makes it fun, accessible, and safe.

Play is how children make sense of the world and playgrounds play an important role in child development.  Children develop social, emotional, cognitive and language skills as they use their imagination to create make believe games, give themselves roles in the game and learn cooperate as they work out problems and practice self-control taking turns.  This is their world where they express themselves and experience freedom and a sense of challenge and accomplishment in their world.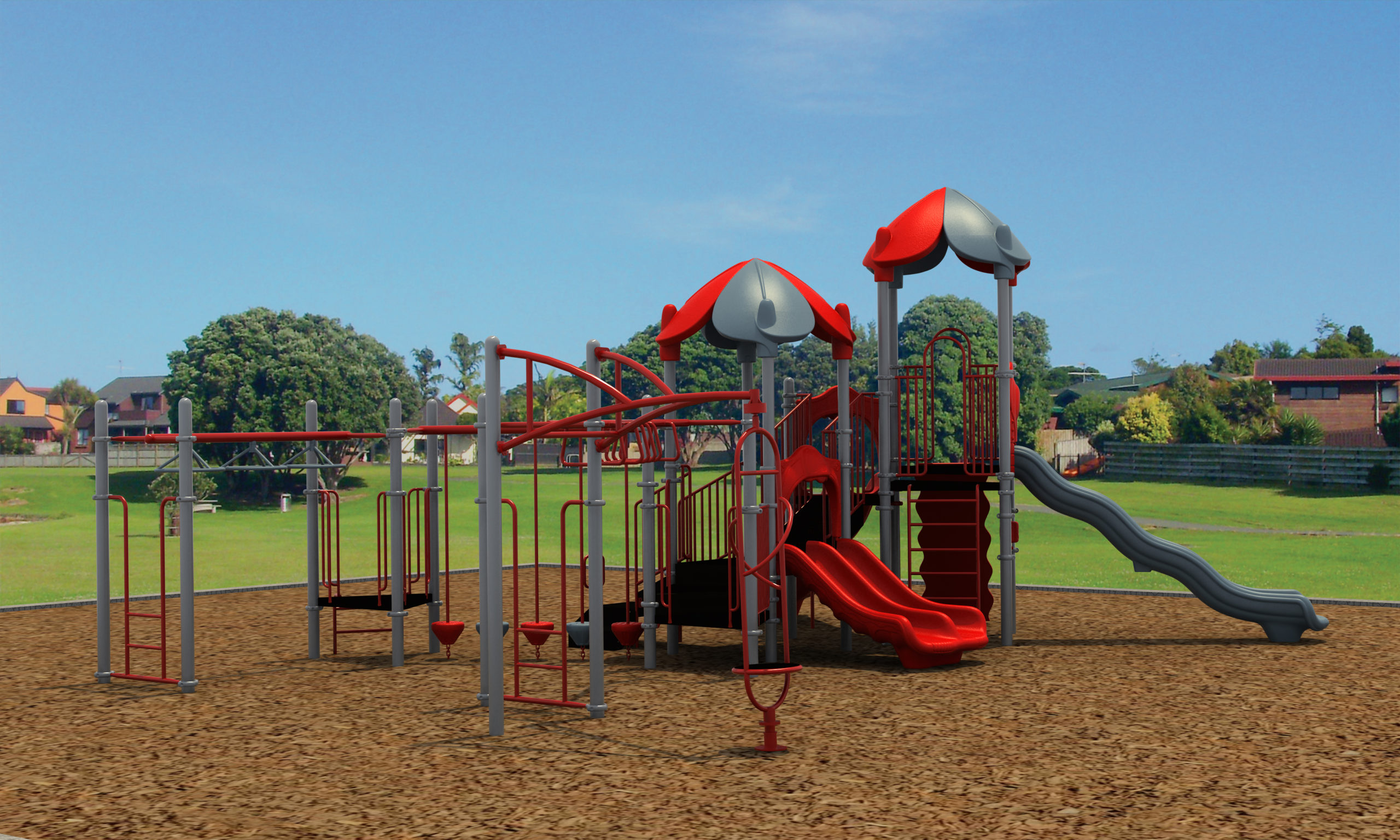 Maximo
Maximo Playgrounds is composed of 5.0" OD galvanized steel or aluminum support posts, hich have a larger footprint and can handle a large capacity without restricting the flow of play. Reliable materials and skilled craftsmanship at the KidsTale factory result in a product that is safe, durable, and low maintenance. Maximo is designed for large spaces and a higher volume of kids.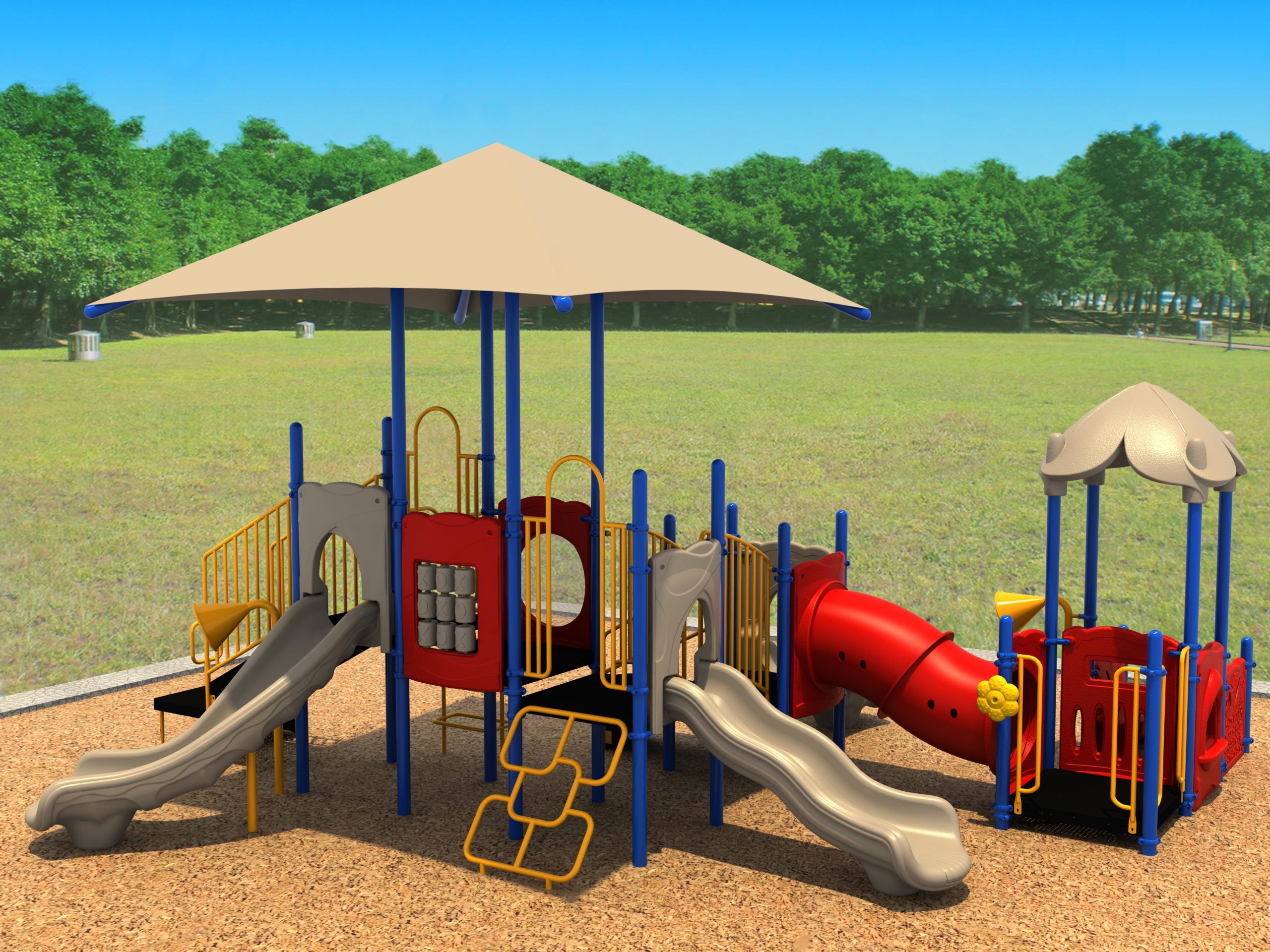 Minimo
Minimo Playgrounds are composed of 3.5" OD galvanized steel or aluminum support posts with a smaller footprint than standard equipment for organizations that want to provide a lot of activity in a small or medium-sized space at a reasonable cost. This line offers big play in a smaller space, with the safety and durability of larger, more expensive playgrounds.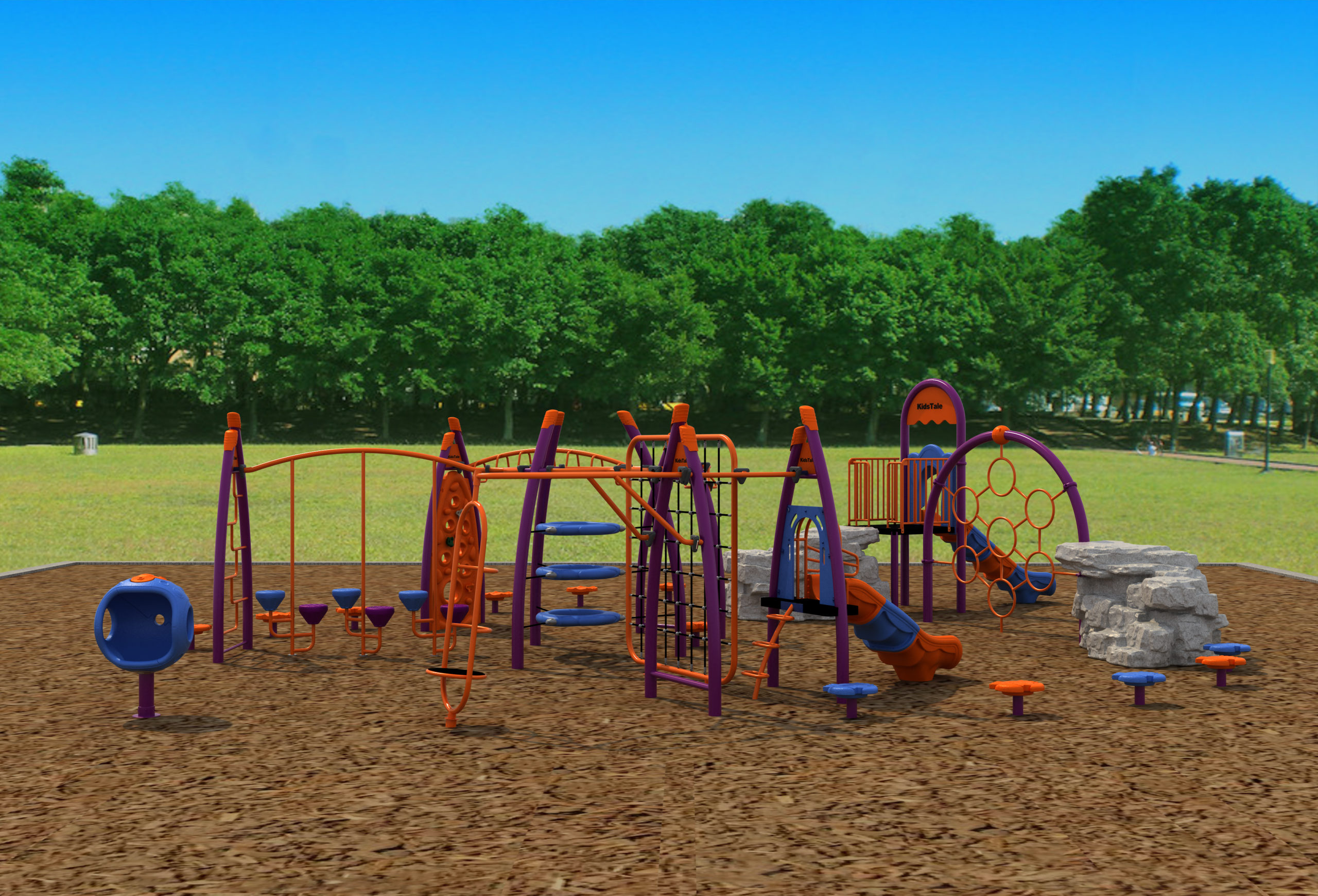 Nexus
Nexus Playground equipment uses 4.0" OD galvanized steel or aluminum posts. It's designed for more creativity with an overall look of flexibility, exceptional activity, and curvy, bendy style. Smaller, more compact footprints added safety and lower costs are possible by eliminating the traditional posts and platforms. Activities are at or near ground level, while still providing exceptional activity.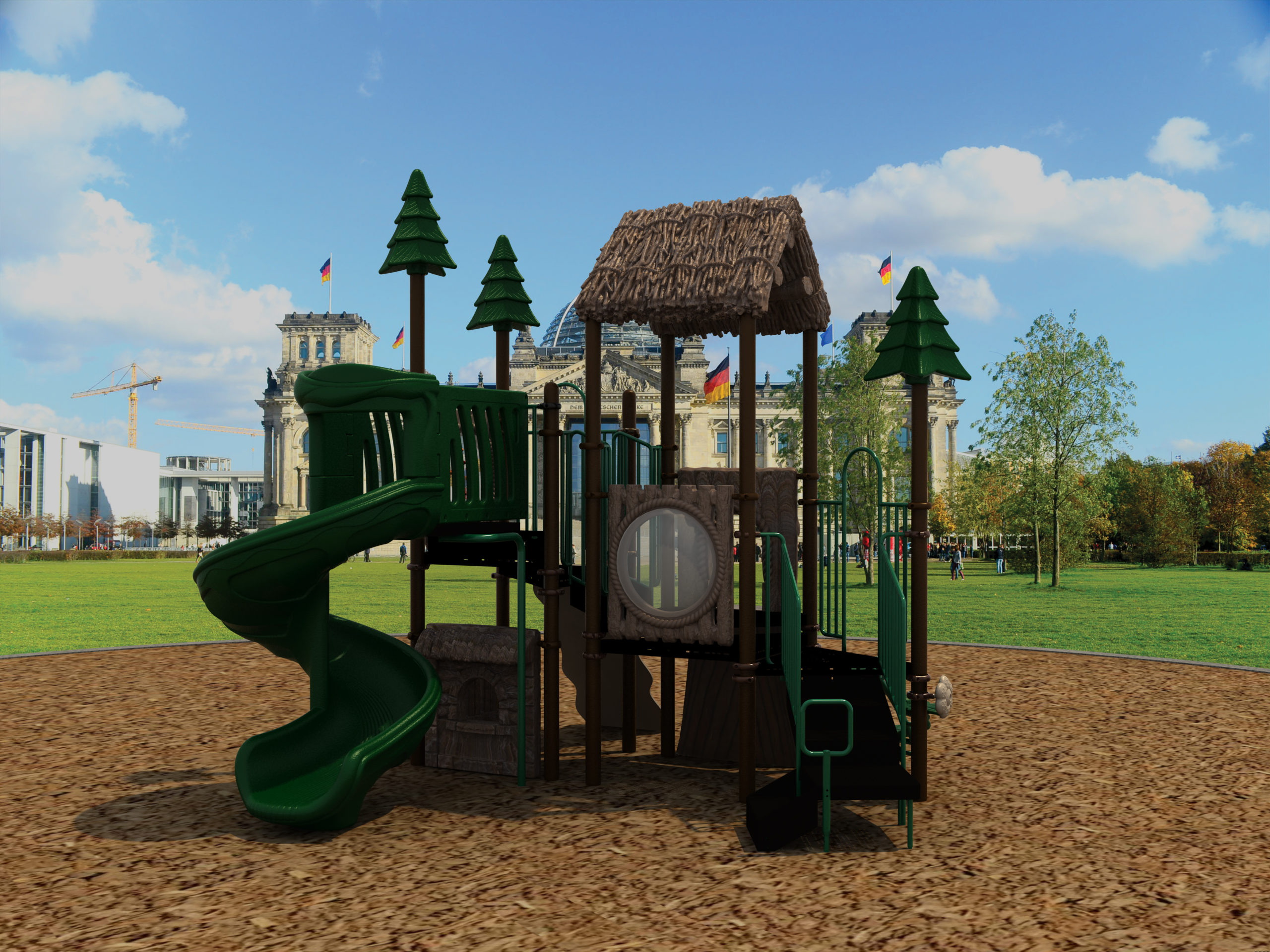 Natural Play
Reconnecting with nature and playgrounds that blend with the natural surrounding is a popular trend.  Kidstale uses a variety of roofs, panels, and slides that have the appearance of thatching, rough-cut logs, and other elements resembling nature to transform a traditional playground into an adventure wilderness.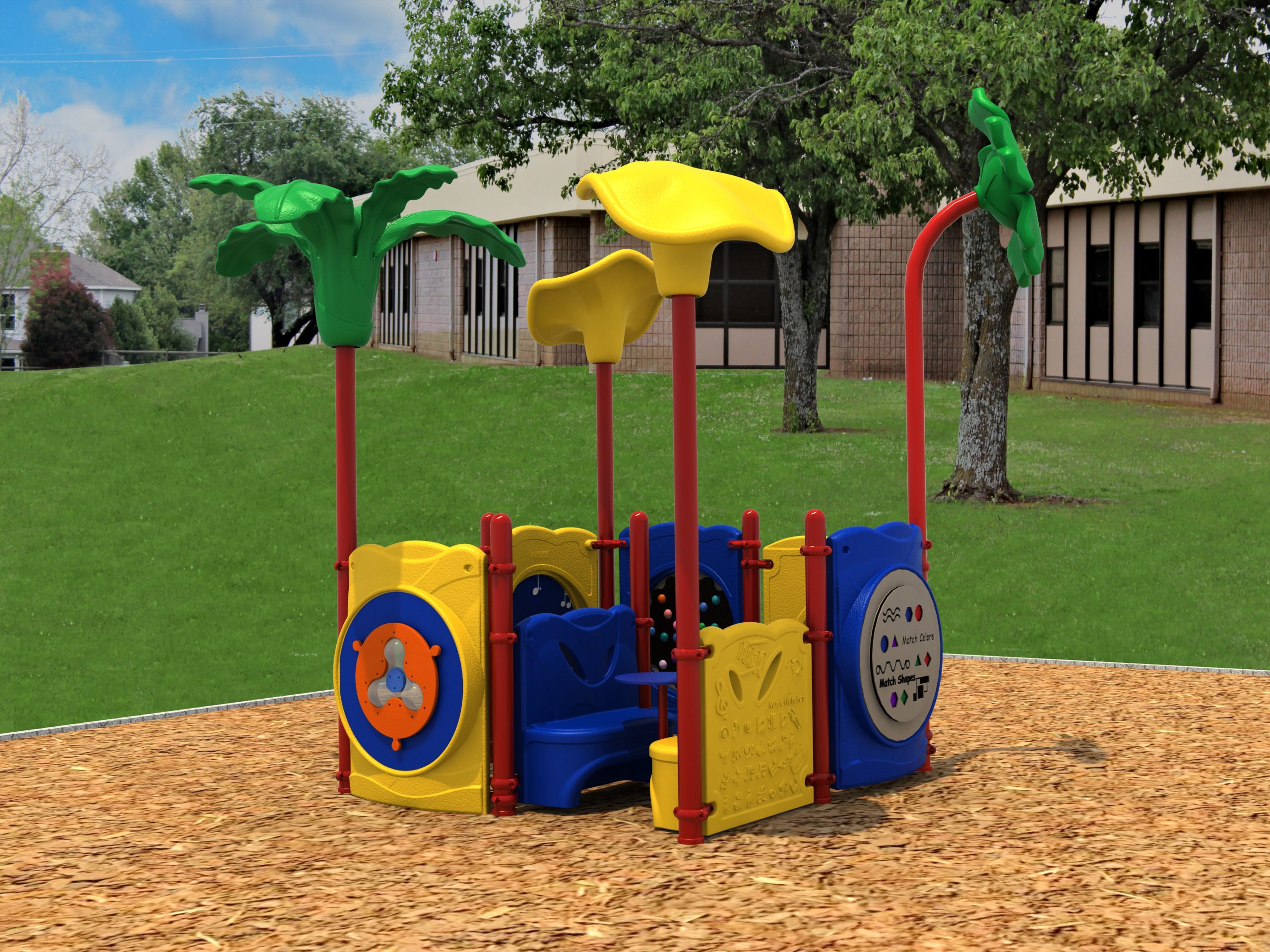 Toddler Town – Ages 6 – 23 months
Toddler Town playgrounds make the most of ground-based play and are designed for cognitive learning, developing fine motor skills, and lots of social interaction. Since toddlers require close supervision, playgrounds also need to provide clear sight lines, as well as lots of activity.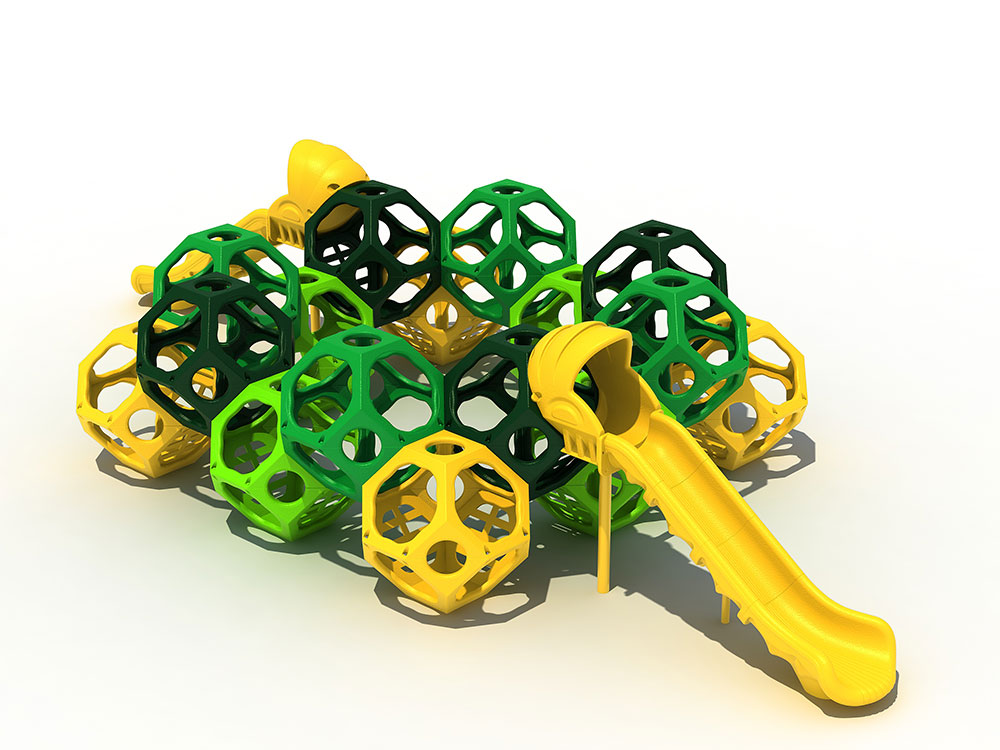 Free Standing Play
Put more play and challenge in your play area with free-standing play equipment.  We offer a full range of free-standing play equipment to add fun, complement, and complete your existing and new playgrounds.  From the crawl tunnels to 8' high mountain twist climbers, products meet high standards of safety and provide for age-appropriate physical development with lots of fun and excitement. One of Kidstale's newest and most innovative products to keep kids moving is the iKUBE.  This climber is a challenging climbing event with a unique look.  Slides are added to some models for even more fun.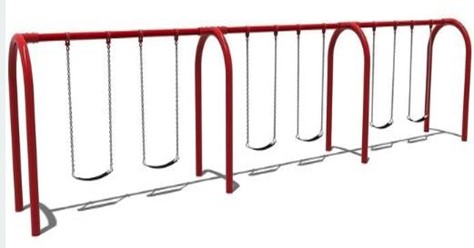 Swing
Our always popular, swings are fundamental to a playground, a timeless addition. They provide sensory, and vestibular development and are a whole lot of fun! Choose from Arch Swings, Single Post Swings, and other multi-user swings. Swing bays must share the same age range (2-5 or 5-12) for all swings within a given swing bay---belt seats for older kids and tot seats for young children.
Playgrounds for Texas are post and clamp pre-designs that are IPEMA tested to meet ASTM and CPSC standards for public play equipment. The clamps are 3.5 inched aluminum for easy assembly.  Traditional in-ground mounting accommodates different surface types and depths.  All units are available in two colors combinations, either Primary colors red, blue and yellow, or Natural/Neutral colors brown, green and tan.
El Paso Point
19' x 7" x 25'8", Capacity 12-14
Pedernales Play
21'-9" x 26'-5", Capacity 13-15
Waco Ranch
26'-1" x 28', Capacity 18-21
Border Laredo
28'-7" x 29'-5", Capacity 22-26
Alamo Winds
28'-7" x 29'-5", Capacity 22-26
Bluebonnet Trails
23'-11" x 33'-9", Capacity 26-30
Dallas Rancher
31' x 35', Capacity 28-32
Austin Weird
28'-6" x 33'-3", Capacity 33-38
Lone Star Plains
25'-8" x 34'-11", Capacity 36-42
San Jacinto Meadows
27'-2" x 30'-4", Capacity 24-28
Del Rio Sunrise
27'-2" x 30'-4", Capacity 24-28
Mockingbird Sound
30'-5" x 32', Capacity 28-32
South Padre Sands
28'-1" x 28'-2", Capacity 23-27
Amarillo Panhandle
31'x 35', Capacity 27-31
Cradle of Texas
28'-6" x 31'-11", Capacity 28-32
Longhorn
25'-3" x 44'-4", Capacity 29-34
Luckenbach Fields
30'-8" x 21'-10", Capacity 35-40
Mt. Enchanted Rock
34' x 39'-2", Capacity 42-48
Big Bend Overlook
37' -3" x 42'-2", Capacity 46-53