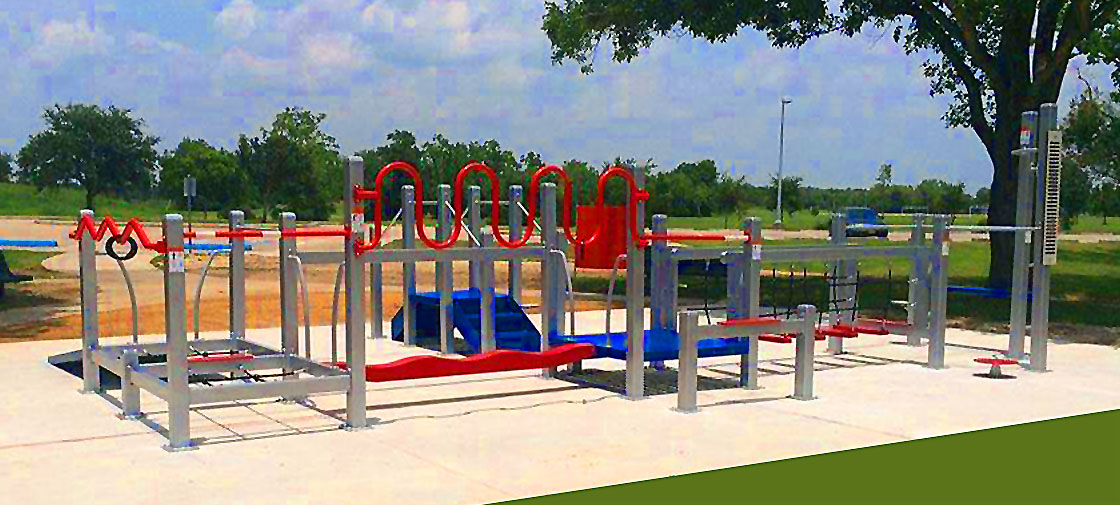 Outdoor Fitness Equipment
We offer the highest quality commercial outdoor fitness equipment for teens, adults, and seniors to give you a great outdoor workout. Escape the gym and stay in shape outdoors affordably with equipment that is safe, effective, durable, and can withstand all kinds of weather conditions. Experts tell us that being outdoors is a great way to get more Vitamin-D, boost serotonin levels and improve overall mood and well-being. Add professionally installed fitness stations along a jogging trail or group together for both social and physical fitness opportunities. When located near a playground, it provides an enjoyable day out for the whole family. Teens that have outgrown a traditional playground, people that don't have a gym membership or transportation to an exercise facility can stay active and experience the health benefits when it is available to the community. We have many options to fit any space, need, or budget in your parks and community areas. Some of the equipment will accommodate multiple users at once. We will work with you on identifying and providing the surfacing, shade, shelter, and site amenities needed to encourage socialization, motivation, and the enjoyment of exercise.
Our equipment is designed with quality materials to be attractive and add beauty to the outdoor setting, and to be sturdy enough to support all shapes and sizes of fitness enthusiasts. It has been thoroughly tested by industry experts to meet the ASTM standards for outdoor fitness equipment. Instructional signage is included giving users step-by-step instructions, as well as information on the muscle groups being worked. Links to an instructional video can be accessed with a QR code.
In terms of overall wellness, a well-rounded workout includes four main elements.
Muscle Fitness – Strengthen muscles and build endurance to perform challenging tasks.
Core Fitness – Total body stability to prevent injuries and improve performance.
Aerobic Fitness – Enable the heart and lungs to function at their ideal level.
Balance and Flexibility – Develop a full range of motion, body alignment, and awareness for fall prevention and muscle fitness.
Our equipment is grouped into two categories, FitTech and Traditional. In high-use areas that require state-of-the-art form and function, users at all skill levels will benefit from the rubber spring resistance and long-wearing resistance of the FitTech line. Traditional equipment is multipurpose and budget-conscious for users that want more versatility. Products can be used for multiple exercises and allow for changing routines.
Select an entire package to increase your savings or choose individual pieces to create a product arrangement that meets your needs.